DataRebels is ready to guide you through a sea of data.
Make your data work for you.
We're living in a world that creates almost 3 quintillion (that's 3 million trillion) bytes of data every day. DataRebels wants to empower you to govern your data so that you can bid farewell to all of your confused data wanderings. By guiding you through proven repeatable processes and methods we equip your company with strategies for success – empowering growth, change, and evolution as the market demands.
YOU WILL NOT ONLY LEARN HOW TO AVOID OBSTACLES IN YOUR BIG DATA ANALYTICS IMPLEMENTATION BUT ALSO LEARN HOW TO REMOVE THE OBSTACLES ALL TOGETHER WITH THE DATA VAULT 2.0 STANDARD.

DataRebels is Certified and Authorized by
Data Vault Alliance (DVA).
Data Vaults done right everywhere, every time.
FAST ROI on your Data
ACCURATE projection of time and costs
Open and readily ACCESSIBLE data
Auditable Raw Data FREE of tampering
EFFICIENT data processing
A fully INTEGRATED business view of your data
Enabling new and informative data in REAL TIME

Rebel against outdated business intelligence solutions and experience true freedom using the Data Vault 2.0 Standard Methodology.

Ready your crew and prepare to launch your own Data Vault in this 2 -week training and implementation program.

Need guidance? Data Rebels will steer you back on course with our customized coaching and consulting packages for your Data Vault team.
Follow the Data Vault Practice. "Get in, get the data, and get out."
See the DataRebels blog for more featured videos articles and podcasts.

For me 2021 was learning about data warehousing and analytics. After the very intensive Data Vault 2.0 Practitioner Boot Camp I passed the CDVP2 certificate and now feel ready to continue my journey to implement modern Azure Data platforms.
-Jani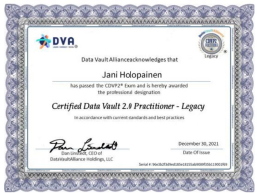 Thanks to Cindi Meyersohn for leading an intense informative DV boot camp learning event last month. Super thanks to Veronika Durgin for organizing the Study Group which was very helpful in getting ready for the test. And thanks to Sunil Sunkarito giving me the opportunity to apply the#DataVaultmethodology to real-world data.
-Saqib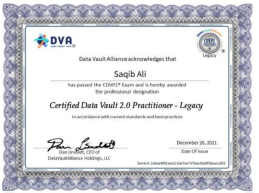 I did something over my winter vacation. This was not an easy test but if anything and anyone can prepare you for it it's a #datavaulttraining with Cindi Meyersohn!
-Veronika