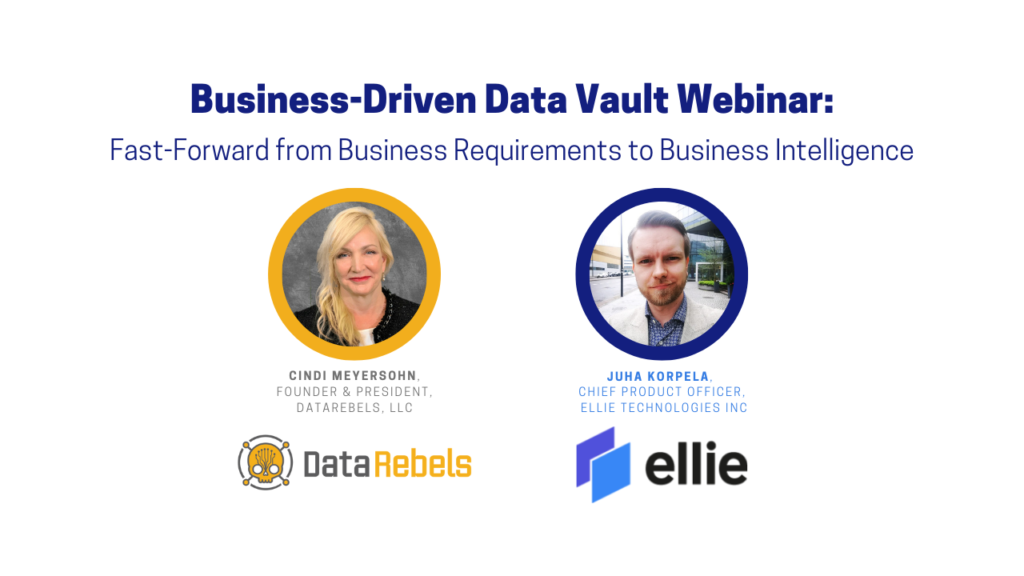 Business-Driven Data Vault Webinar, Fast-forward from business requirements to business intelligence.
This webinar took place on March 11th, 2021.
In this webinar, Cindi Meyersohn joins Juha Korpela on Business-Driven Data Vault Dialogue.
Webinar Agenda:

The basics of business-driven conceptual modeling
Why choose Data Vault 2.0 as your Data Warehouse design
Applying automation – fast-forward from business concept to business intelligence
A model-driven approach to Data Vault design
The importance of staying business-focused
Data Vault design process
How to derive a Data Vault design from a business use case
Preserving the lineage to business concepts through Data Vault architecture
Q&A
About Juha Korpela, Chief Product Officer, Ellie Technologies Inc:
Juha is in charge of product development at Ellie Technologies. He is an expert in data modeling, information architecture, and agile development methodologies. For the last decade, he has worked with all kinds of data initiatives in businesses such as global manufacturing and banking as well as the public sector.